Home » Featured, Football, Sports, UAB
UAB Football Announces 2009-2010 Schedule!
Alright everyone let's come to some hard truths before we come to some exciting news.
1. Alabama is a football state,
it's always been a football state
and unless the bammers down South start letting their beloved Sab(t)an coach the basketball program too it will remain that way. Because of this 90% of the colleges in this state focus on the pigskin program at their respective athletic departments.
2. The UAB football program has been…er…well…the best word I can come up with is bad the past few years (but hey we've only been around 15 or so years!) but, things are about to change.
This week the UAB athletic department announced the UAB Blazers 09-10 football schedule.
Now I know most of you are already losing interest and rolling your eyes and saying,
CJ why waste our time with a football program that hasn't even won a Conference title in its life time?
And I would respond and say its a valid question.
Why do we care about a program that isn't in the SEC and doesn't have a coach whose name is Saban…
in charge?
Because we are different.
Now at this point all of the Alabama-Tuscaloosa fans and Auburn-Polytechnical Institute fans are rolling their eyes and laughing but hear me out.
We are different. As a University. As a fan base. And as a football program. And it is our differences that unites us and make us great.


We play a different type of ball from those around here and we are building a program from the ground up.
We haven't been around for 100+years. I fact we haven't even been here for 50 years yet we have already established a strong, passionate fan base that loves their Blazers and wants to see them succeed.
That's why right now. On March 21st, 2009 I encourage YOU Blazer fan to get excited for Blazer football this fall. Head Coach Neil Callaway and the squad are returning a seasoned, veteran squad who is hungry for victory and ready to take UAB to the next level. Coach Callaway and the coaching staff have had one of the most successful recruiting classes in UAB's short history. Supplying the Blazers with much needed height, depth and speed (something that has been missing since Watson Brown).
But enough about why UAB football is awesome here is the 2009-2010 football schedule. Next to each game I have put a little comment about the game and the team.
Sept. 5th– Rice*– Rice finished the season last year with 8 wins and boasted one of the strongest records in CUSA. However, the team loss some veteran players and will be rusty from trying to adjust to the new year. Look for the Blazers to jump on the Owls and start off the season 1-0 (for a change)
Sept. 12th – SMU-Another Texas squad comes into Birmingham to take on the Blazers. Last year was head coach June Jones first year and to be quite frank it was a disappointment. Jones has cut 9 scholarly players from his roster this off season so his team will be a little short handed. Look for the Blazers to try and help Jones pack his bags and head out with a big win at home.
Sept. 19th– @ Troy– I hate Troy. Condom U hasn't scored a touchdown on UAB in its last three meetings (all were blowouts). Look for Callaway to keep the Blazer tradition and break the TroJans.
Sept. 26th–@ Texas A&M-This game is one of the Blazers two biggest games of the year. UAB could put itself back on the College football radar with a big win @ College Station. The Aggies finished last year with the same record as UAB,4-8 . Look for the Blazers to make a huge statement with an upset in the Lone Star State.
Oct. 3rd–Southern Miss.-All I've got to say is we have never…EVER beat Southern Miss in football. Look for Callaway and the squad to break the streak and bring peace to the minds of Eagle-hating fans everywhere.
Oct. 17th– @ Ole Miss.-Probably the biggest surprise in the SEC last year. The Rebels were on a freakin mission last year to establish themselves as one of the best in the nation. This will be the Blazers toughest contest match-up wise. Look for the Blazers to try and use their new speed to outrun the tough Ole Miss D.
Oct. 24th– @ Marshall– They are AWEFUL. Come on we beat them last year. We had 4 wins last year! Look for the Blazers to take care of business in incestville.
Oct. 31st–@ UTEP– Ugh we've got a tough away schedule this year. Nevertheless last year was a sucky year for the Miners who expected so much more than the 4-8 record they ended their season with. Look for the Blazers to match up well against the Miners and possible sneak out a big win.
November 7th– Florida Atlantic-Last years game @ Fla. Atl. turned into a scoring fest with the final score putting the Owls over UAB 49-34. Look for Star QB Joe Webb to exact his revenge and roast the Owls at home.
November 14th– @ Memphis. The bones NEED TO COME HOME! Look for the Blazers to right the wrong from last year and return the Bones back to da Ham!
November 21st– @ ECU– The Blazers nearly upset the butt-pirates at home last year. Hopefully this year Coach Callaway and the boys can upset Skip Holtz' boy and take the win home for the Blazers. Look for the Blazers to get a big game from their D.
November 28th–UCF– For the first time since I've been at UAB the Blazers have started and finished their season at home. The Blazers defeated the Golden Knights @ UCF last year 15-0. Look for the Blazers to finish the season strong in the Medieval Bowl.
Alright that my friends is UAB football. I hope to see you all in the fall!
GO BLAZERS!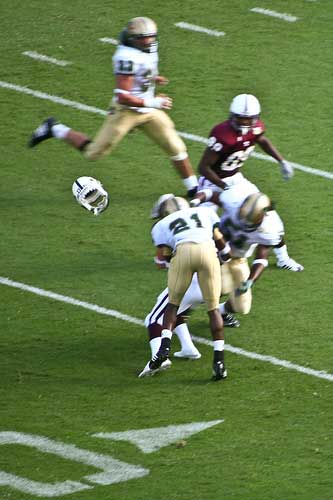 -CJ OUT
Here are some more iloveuab.com posts that you may enjoy
UAB Basketball Announces 09-10 Non-Conference Schedule This year Coach Mike Davis and the UAB coaching staff...
iloveuab.com Sits Down with Coach Callaway! iloveuab.com sits down with UAB Head Football Coach Neil Callaway...
Continue UAB Football UAB students and alums are reacting to news that the...