Home » Birmingham, Campus Lifestyle, Entertainment, Fun, Popular Culture, Programs, UAB, University Programs Council
UAB Event Updates!
And the moral of the story? Weather sucks.
It seems like all of my outdoor events get rained out. UAB needs to send me on out of town business more often. It'll help keep the weather problems down.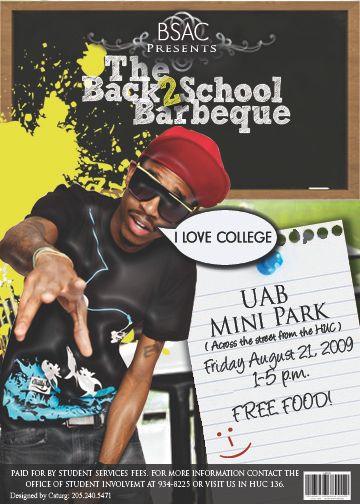 The BSAC BBQ has been postponed until Saturday at 1pm at the UAB MiniPark. Come hang out with us then! There will still be all of the same free food and fun. Just on Saturday. Don't miss it.
Also, the outdoor showing of Star Trek has been moved to the HUC Alumni Auditorium at 8pm. The grass is way too muddy right now and isn't going to get any better any time soon. I promise we'll get something on the Campus Green soon.
Don't forget – Umojaa on Tuesday. Stuff White People Like on Wednesday. These are two events you can't miss!
And did I mention Post Secret is coming to UAB, too? Oops. I let that slip. Look for details next week! We're really excited to be hosting Frank Warren and his amazing site!
Popularity: 1% [?]
Here are some more iloveuab.com posts that you may enjoy
Welcome back to campus! There's a lot going on right now, so forgive this...
What's your secret? My secret is that Post Secret is not yet sold...
Blazing on the Green Fall Concert featuring Andy Grammer As I'm sure all of you are aware, the first...